We at The Meaning of Life ~ World's Greatest Political Satire are pleased to announce that MOL contributor, Alan Bianco, has published his first literary work, NAPLES SECRETS IN THE SUN ~ As Uncovered by an Inquisitive Uber Driver.
Besides being a contributor to The Meaning of Life, Al is a Florida retiree and part time Uber driver. His book exposes the hidden (but humorous) underside (as well as the not-so-hidden and lackluster overside) of Naples, Florida, the wealthiest and most diverse city in the known universe!
Al's book exposes the hidden secrets of Naples. Where was the areas last nudist colony? What is Naples' best "local hangout" restaurant? Which Napoletani Straordinario (Extraordinary Neapolitans for those who don't speak Italian) hail from the area (and which one "gets down at night")? And how did the Fifth Third Bank come to be named the Fifth Third Bank?
Naples' glorious past is also examined by the book. How did alcohol (drinking, not rubbing) accelerate the construction of the Tamiami Trail? Where exactly on 5th Avenue did Charles Lindbergh land his plane? And how did Collier Country get its name, anyway?
In addition, the book looks at a few of Naples' "liabilities" such as Red Tide, Florida drivers, and the longest red lights in the western hemisphere. 
Finally, Naples Secrets in the Sun answers the hitherto unanswered questions about Naples' past and present. Did Marco Polo discover Marco Island? Did he also name Keewaydin Island? Is it possible for a beautiful, well endowed woman to undress and quickly re-dress while sharing the back seat of a moving Uber car with her equally beautiful friend?
All this, and more in Naples Secrets in the Sun!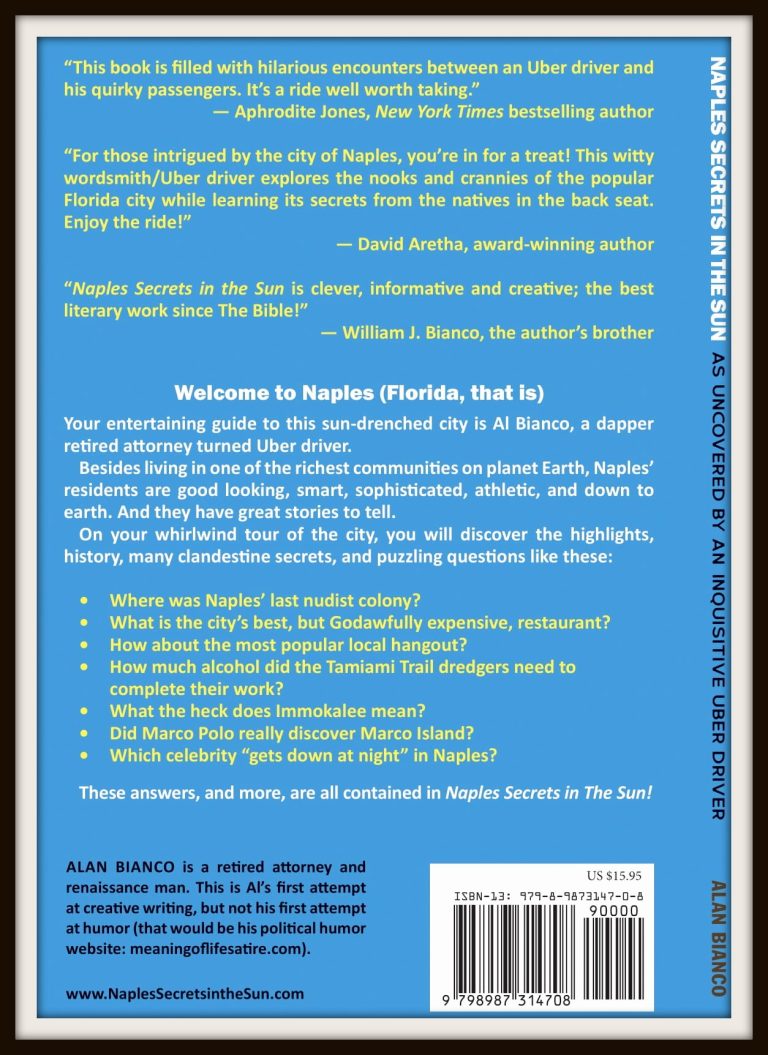 Where (and How) To Get Your Copy
Al's book (both eBook and soft cover) is available on Amazon, through his website www.naplessecretsinthesun.com, and through Barnes and Noble's website, www.bn.com .
Booksellers can obtain Al's work of art through Ingram Content Group.
Naples Secrets in the Sun - A Number One Bestseller!